Le Festival Alpha-Ville dédié à la culture des arts numérique aura lieu du 17 au 18 septembre 2010 à Londres aux Royaumes unis sur le thème des villes visionnaires.
Deux jours de performances live audiovisuels, de spectacles, d'installations, live cinéma, 3D visuelle, des workshops et autre compétition seront au programme cette année.
Le public sera invité s'engager à travers les outils sociaux pour mieux s'immerger dans les performances des lives numériques, brisant peut-être cette frontière entre le réel et le virtuel.
http://www.facebook.com/AlphavilleFestival
http://twitter.com/alphavillefest
http://vimeo.com/groups/alphaville
http://soundcloud.com/alphaville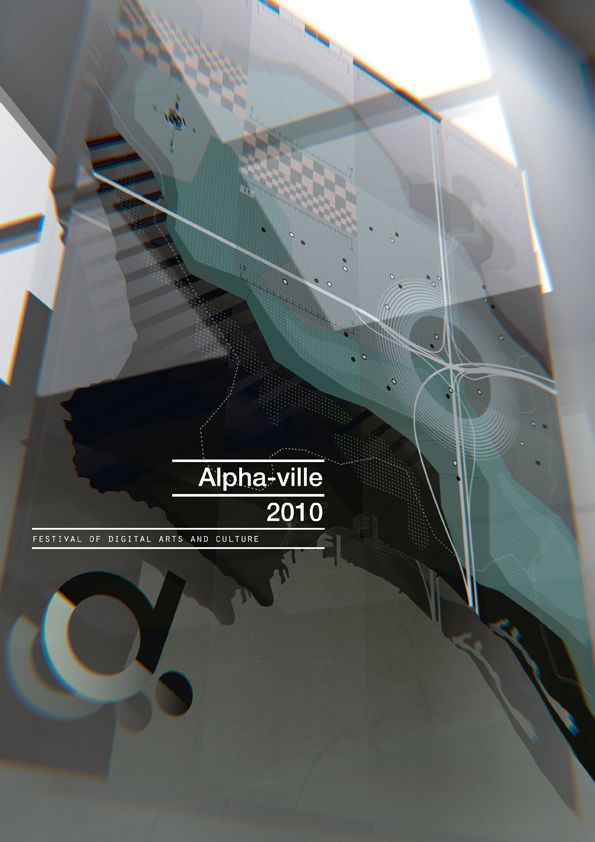 Programme du Festival Alpha-Ville du 17 au 18 septembre 2010 à Londres.
- Live Electronic Music
BOLA (Skam, UK) Electronica, IDM
Scanner (Bine, UK) Electronica, IDM
Kettenkarussell (Giegling, DE) Melodic Techno, Electronica
Actress (Werkdisc, UK) Techno, Dubstep, Micro-house
The Boats (Mooter, UK) Clasical Modern Electronica
Subeena (Planet Mu, UK) Hyperdub, post-dubstep
Uniform (Planet Mu, UK) Experimental, Sound Art
Soundhacker (Smallfish, UK) Electronica, Experimental

- Bartlett School of Architecture Showcase
- Screening Programme
L'effimero Permanente, Apparati Effimeri, 2010, IT
Déshérence, Antivj,2009, UK/FR
Augmented Sculpture, Grosse8 and Lichfront, 2010, DE.
The Nest That Sailed The Sky, Glen Marshall, 2009, IE.
Glitch Telemetry, Maria Niro, 2010, USA.
Seide, Aiko Okamoto & Cio D'Or, 2009, DE.
Kaamos Trilogy, Mia Makela, 2008, FI.
Occupation: Movement I, Eric Schockmel, 2009, UK.
The Formula, SubBlue, 2010, UK.
- Visionary Cities Competition
- Installations & Performances
Ship of Fools by Jinhyuk  Ko, 2010 (South Korea)
Eternal Summer Storm by Ka Fai Choy (SG/UK)
Revisit by Moritz Stefaner (DE)
Partial Gathering (UK)
Animetro by ESProjections (UK)
- Live Cinema Performance
Pixel + Graphset (DE, FR)
Visionary City Live Cinema Performance Day 2
Gangpol & Mit (FR) Live Cinema Performance Day 2
Nikka & Alba G. Corral (ES) The Space In Between Live Cinema Performance Day 2
Zan Lyons (UK) Live Cinema Performance Day 2